Have Confidence in Your Choice of PSP
CARF (the Commission on Accreditation of Rehabilitation Facilities) has awarded PSP a continuing three-year accreditation (2017-2020) of our services. This accreditation is your assurance that our programs, policies and practices have been rigorously reviewed and evaluated, and have met the organization's internationally-recognized quality standards.
Justifiably Proud of Our Results
For three days in November of 2017, a CARF surveyor conducted extensive interviews with all our stakeholders. These discussions included the people we serve, their families, our employer partners, referral sources and funders—the Developmental Disabilities Administration (DDA), Division of Developmental Rehabilitation (DVR) and King Country Developmental Disabilities Division (KCDDD).
Every aspect of our operation was examined for conformance to 896 survey standards. At the end of the evaluation, the CARF surveyor thought so highly of PSP that she could offer no suggestions or recommendations on ways to improve our services. We had, in effect, earned a perfect score—an A+.
Only 3% of all programs surveyed by CARF nationally and internationally attain that status. What makes this accolade even more satisfying to us, is that this is the second consecutive CARF rating period in which we have earned this honor—something rarely seen in the industry. PSP is humbled and justifiably proud of our team for achieving another perfect CARF review. We'd like to share highlights of our evaluation with you. Click here to read a summary of our 2017 CARF Accreditation Report. Let us know what you think.
Learn more about CARF accreditation and what it means to consumers of our services.
To also read a summary of PSP's past 2014 CARF Accreditation Report, click here
Back to Top
Satisfied Customers
PSP exceeded our customer satisfaction goal with 100% of those responding stating they would recommend our services to others.
---
CARF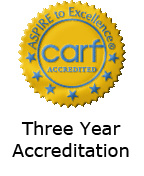 2017 - 2020