Our Philosophy of Service
Puget Sound Personnel, Inc. (PSP) was founded in 1983. As one of the first supported employment agencies in the Northwest, our mission has been to help people with all types of disabilities lead self-directed lives by giving them the training and support needed to build rewarding careers in the community.
We accomplish that goal with a level of professionalism and personal caring that sets us apart. Should you choose to work with us—as a job seeker or as an employer—you'll find that same passion and dedication to service in every encounter you have with our organization.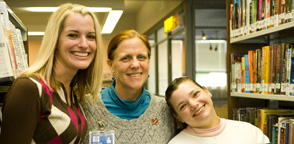 PSP job coaches create a strong partnership between participants, their managers and co-workers to ensure placement success.
PSP's talented team brings diverse backgrounds and work experiences to our company that enrich our delivery of services. Resourceful, passionate and professional, the PSP staff is dedicated to ensuring positive outcomes in employment for those we support and their employers.
While PSP's focus concerns employment, the effect of our work is social change. That's why PSP has forged partnerships with local Puget Sound companies both large and small who share our commitment to promoting diversity and inclusion in the workplace.
We are encouraged by the benefits of diversity we see at work around us. A diverse workforce builds understanding and acceptance while advancing new perspectives. It melds a team together. People become more tolerant of others once they understand we are more similar in our needs, hopes and desires than we are different. This process of acceptance and inclusion not only makes a company (and the world) a better place, it also makes good business sense.
Should you or a family member need our services, we'll do our best to find that "dream job"—the one that can open the door to long-term employment and personal fulfillment. If you are an employer who values the contribution and dedication individuals with disabilities bring to the workplace, our expertise in job customization, training and support can help you build a productive team.
We invite you to work with us. We'll listen. We'll care. We'll stay involved. Together, we can make a difference.
Back to Top
Our Mission
PSP's mission is to enrich the lives and livelihood of people with disabilities or other employment challenges.
We do this by developing meaningful, financially rewarding careers in community-minded businesses throughout Puget Sound.