PSP Customer Satisfaction Survey 2018
Providing outstanding customer service to the people we serve and their employers is the cornerstone of our business philosophy. That's why we survey our customers to determine their level of satisfaction with our services on an annual basis. The feedback we receive helps us make continuous improvements to our company and allows PSP to set targeted service delivery, staffing and operational goals.
Customer Service Goal
In 2018, PSP set a customer service goal of having 95% of our surveyed participants indicate that they were satisfied with the services they received from our organization. We believe that measuring satisfaction is the single best indicator of the quality of services we deliver to our customers.
Customer Survey Results
PSP's program participants were asked if they were satisfied with their job and PSP's services. Employers were asked if they were satisfied with the supported employee's job performance and PSP's support services. Feedback was collected by our staff during annual reviews.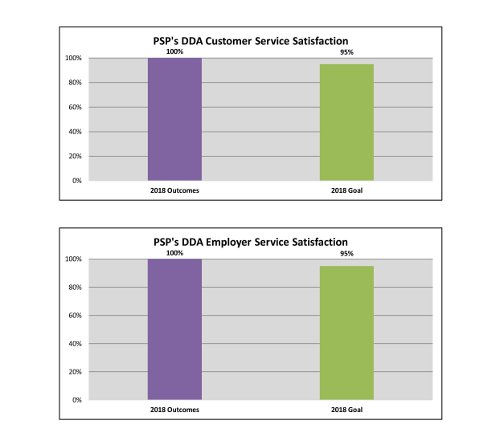 PSP met and exceeded our Customer Service Goal for 2018 with 100% of the respondents indicating that they were satisfied with our services and support.
Back to Top
Working It
If you like what you do, it shows in the energy you bring to the workplace. Our goal at PSP is to help you find and keep your "dream job."