Our Employer Partners Tell Us How We're Doing
"I am fortunate to work with many different agencies on the Microsoft campus. I can confidently say that my work with your [PSP's] staff set the standard of what should be expected of all support positions on campus. They are quick to resolve any issues and they maintain professionalism and appropriate communication. They are both incredibly respectful of everyone's time, a trait that is less common in many similar environments. "
Nick Pagel, Senior Food Service Director, Microsoft campus
"PSP has not only helped our company open our doors to expanded work opportunities for people with disabilities, but they have helped us open our hearts and minds to what is possible. It's been a journey that has deeply impacted me and has had a motivating influence on all members of our dining services team. I also think our customers [at Microsoft] have seen and felt the positive effects of a truly inclusive workplace—and that is good for any business. I believe PSP offers an amazing opportunity and a proven path for companies seeking to hire very capable and dedicated people with disabilities. I highly recommend them."
Tom Teves, President of National Accounts at Compass Group
"We owe a debt of gratitude to Puget Sound Personnel for getting us here today. The quality services and exemplary results PSP has delivered over the last 30 years to Microsoft and our vendor partners were the model for this program. We view their work as the benchmark of what we hope our new Supported Employment Program will bring to advancing diversity and inclusion at Microsoft."
Rob Towne, Director of Real Estate for Microsoft commenting at the kickoff event for Microsoft's Supported Employment Program
"The insight and continued support that PSP provides to our entire staff is invaluable. We recognize that the value of their one-on-one coaching and long term follow along is the reason that these individuals are successful in their positions with Pediatric Associates."
Teri Hailstone, Director of Human Resources, Pediatric Associates
"In employing many remarkable people with developmental disabilities, each of our grocery stores and our corporate headquarters count on the employment support provided by Puget Sound Personnel. PSP job coaches help with training, problem solving, communication, accommodations and other issues pertaining to job retention. The significance of supported employment goes far beyond the walls of PCC. Supported employees who work are tax-payers, patrons and contribute to the betterment of society and our economy."
Nancy Taylor, Director of Human Resources, Puget Consumer Co-op (PCC)
"As an employer, I rely on the continued long term supports provided by PSP staff. Their expertise and support is a critical component to assuring that Overlake continues down the path of diversity."
Mark Eggleston, Director of Hospitality Services, Overlake Hospital
"Two of my employees benefit from having the constant support and encouragement from a dedicated job coach at Puget Sound Personnel who is in frequent contact with me; helping them be successful at work and making it much easier on me as a supervisor to successfully employ them. I am so thankful for the support of PSP and couldn't do it without them!"
Wendy Pender, Managing Librarian, Lake Hills Library and The Connection @ Crossroads, King County Library System
"PSP offers the best outcomes in the country. Good jobs. Good wages."
Ray Jensen, former Director, King County Developmental Disabilities Division
"Thank you Puget Sound Personnel for making it so easy to hire people with disabilities! Puget Sound Personnel provides training and support to over 20 employees with disabilities at the City of Seattle. Their professional, knowledgeable, and creative staff continue to make this an absolute success for everyone involved. Puget Sound Personnel has been a valued partner in employment for us since 1995. We look forward to hiring more people with disabilities with PSP's assistance!"
Heather Weldon, Strategic Advisor, City of Seattle
"The Redmond Reporter embraces diversity and prides itself in being a community-based newspaper. David is part of our community and it is our pleasure to present an opportunity for him to earn a wage and grow personally and professionally. David is an important part of our team here at the Redmond Reporter."
Andrea Southern, Publisher/Sales Manager, Redmond Reporter and Bothell/Kenmore Reporter
Back to Top
Social Justice
Hiring people with disabilities ranked third behind offering health insurance and protecting the environment as an indicator of a company's commitment to social justice.*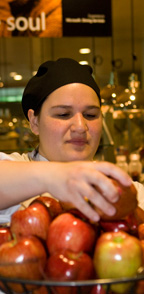 * University of Massachusetts Boston's Center for Social Development & Education (2006)